9 steps to increase awareness of you bar/restaurant
Building brand awareness is essential for your business. Imagine if you were to give out free food or drink and have world renowned performers, you'd expect a huge crowd wouldn't you? But how do you expect people to hear about this unless you get this information to them…  There are so many ways to increase awareness, but here are 9 that will hopefully help;
1. Take to social media
Social media may be the most efficient, cheap and fastest way of increasing awareness. Sites like Facebook, Twitter and Instagram offer companies a great free-of-charge platform to promote themselves by building their brand and audience. It is important that your posts are relevant, interesting or fun, interactive and regular. According to research carried out by Hootsuite, Starbucks is the best performing brand on social media, check out their activity and see why.
2. Word of Mouth
Word of mouth for your business can be spread by both customers and staff. Word of mouth is priceless across all businesses but especially for your bar/restaurant.
Take advantage of your customers, there is no onus on them to sit in your bar/restaurant; it is a choice, because they like your food, the atmosphere or staff. You can trust these people to give you a good review, spread your message, talk about you; they are your friends, fans and followers. People want genuine, realistic, real life reviews that make sense to them.
As the face of your business your staff should be used as much as possible. Get them to post to relevant social media channels. Take an example, if you have 20 staff members, each with 500 friends on Facebook/Twitter/Instagram; that gives you a potential reach of 10,000 people. This can also have a positive effect for the staff themselves, the more business you get the more tips and hours they get in return.
3. Build Visual Awareness
Visual representation has been proven to positively influence customers and remain in their memories. Some restaurants use a mascot, a logo or a tag line, however these don't work across the board so figure out what suits your business. Signage, colour schemes, uniforms, style and consistent methods of customer interaction can embed brand awareness in the minds of the public.
4. Pro
motions
People are generally simple creatures, so there is a simple goal; Treat them well and they will return, possibly with a friend in tow. You can also give people an incentive to post about your business on social media, give them a free drink for checking in or posting a picture. You can also go the route of adding extras, such as a free entry before 10, free drink with a certain dinner or free meals for children under three to further build a brand. You can also take advantage of spreading the word on social media by Taking brand conducting a contest/competitions among your customers.
5. Remind the Public
Advertising constantly is important to stay in the mind of the customer. Remind the customer of the most important aspects to help the customer choose you over a competitor. Location, menu, price and opening hours are the most important here. Door-to-door flyers, direct mail and other publications (whether local newspapers or online publications) are good ways to build awareness. Local radio stations, and highly visited local websites are also good places to advertise and raise brand awareness.
6. Hold an event
Holding a l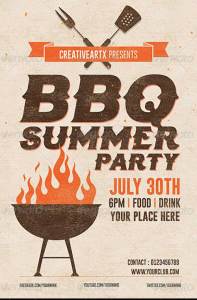 ive event is a great way to get the attention of clients and prospects. This could be just social like a barbecue or a Christmas party, or structured around business development such as a launch of a new product or promotion. Holding a live event opens up opportunities to meet with potential customers and offers the opportunity for them to experience the look, feel and personality of your brand. Consider raising funds for charity at your event or adding a theme to your event to add some spice or give back and do something good.
7. Sponsor something
Sponsorship of an event or product is a solid and proven way to reach a target audience and increase brand awareness. Sponsoring a product, team or event that is relevant to your message and your target market comes with limitless opportunities to increase awareness. An event can entitle your company to exclusive face-to-face time with attendees as well as open branding opportunities.
8. Have a Functional Website/Mobile site
Your website is a main communication toll between you and your customers – it is used for promoting the restaurant, giving information about daily deals, prices, menu changes and announcements about events in your bar/restaurant. According to recent research, 75% of smartphone users are finding information about restaurants as they come out, and even 50% of them make a search in the car.  An online food ordering service will definitely increase traffic. Some people prefer to see and choose the dish from your online menu and order it directly from the web site.
9. Restaurant Menu Design
Your menu design can bring new guests or make that your new guest to become regular. Traffic can increase by 20% if it your menu is professional. The menu is the central part of restaurant marketing. To be successful, ensure to promote your menu and the food on you are offering, if this all looks good and the quality of the food lives up then you have a winner…
Still want to count your stock in-house? Try DigiTally!
Digital Stocktakes
Eliminate pen, paper, Excel and double entry
Reduce stocktaking time by 66%