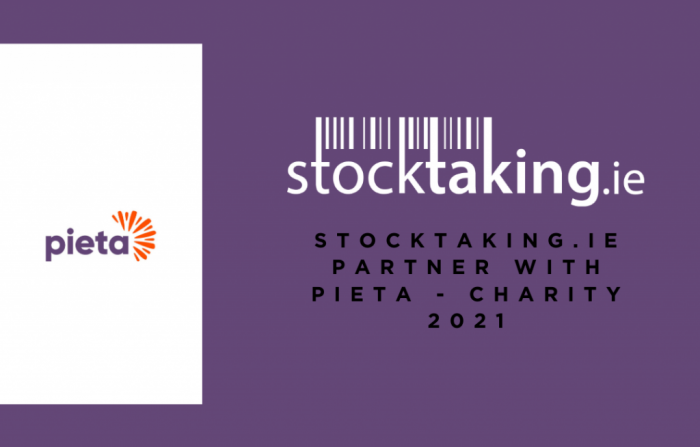 Stocktaking.ie Partner with Pieta – Charity 2021
Stocktaking.ie are a Tuam based company who provide an outsourced stocktaking service across Ireland placing teams of professional stocktakers into various facilities to count their stock in an accurate and efficient manner. 
Stocktaking.ie was created in 2004 by Managing Director Patrick McDermott with the goal of creating a higher standard of stocktaking across Ireland. Originally Stocktaking.ie completed stocktakes for the hospitality industry, then in 2008 expanded its service offering into the FMCG market, providing stocktaking services to convenience stores and supermarkets. Since 2013 Stocktaking.ie have also focused on the larger retail market also completing thousands of stocktakes annually, they employ 12 full time people and have a team of up to 50 stocktakers on a part-time basis.
On Friday last, Patrick, along with his Management Team, Team Leaders and Pieta representatives Donna Burke and Tom McEvoy, decided he was not going to be deterred from Launching this exciting year ahead for Stocktaking.ie so they proceeded with a Virtual Launch to their partnership with Pieta. 
"We decided not to wait to do it in person and held our Virtual Launch with our Charity Partner for 2021! "We are off to a wonderful start and delighted to have our full Team on board for this very worthy charity" said Managing Director Patrick McDermott.
"One of our Core Values is "All about People" so no better time to work with such an amazing charity who are there to support so many." Stocktaking.ie look forward to working closely with Pieta to support them over the next year."
Stocktaking.ie work with many retailers nationwide from Carraig Donn, Skechers, Mc Cambridges, Aran Sweater market, Diesel, local stores like Mace Tuam and Corrib Oil Group. They pride themselves on having the most efficient scanning technology and operating systems in all areas of the business, providing an outstanding service and value for all clients. This is endorsed by Stocktaking.ie being the only Stocktaking company accredited with ISO 9001:2018
Stocktaking.ie and team are looking forward to an eventful  year ahead, supporting Pieta in as many ways possible.
If you'd like to know more about how Stocktaking can help you reduce stock losses in your business,
contact us and speak with our team of Stocktaking experts today!