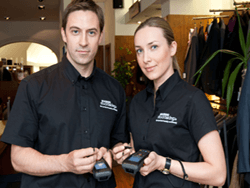 Our Team of highly trained stocktakers are the lifeblood of our business and we believe that in order to have happy customers we must first ensure that our Team members are fully aware of the importance of an accurate stocktake.
For this reason we are constantly training staff to ensure that we hire only the best stocktakers.
Through constant training and efficient technology we are able to monitor their performance and offer feedback and performance appraisals that ensure their most recent stocktake is their best stocktake.
Our Team of office and IT staff are helpful and efficient and ensure that our customers' requirements are dealt with in an efficient manner, at all times.
Our staff is our most important asset, and it is important that we invest in our team to ensure an efficient and reliable service to all customers.
All Team members are vetted, trained and approved by Stocktaking.ie. We do not rely on any third party to provide us with staff.
Stocktaking.ie have a dedicated in-house HR Team whose sole responsibility is to ensure that staff are recruited and immediately trained. They are trained to the high presentation and delivery levels in accordance with company documented procedure, so that the quality of our inventory delivery is maintained at the highest levels.
Employee handbooks and guidelines on Health and Safety concerns are an important structure of our HR policies and can be provided to any customers on request.
Stocktaking.ie have a policy of constantly seeking to recruit the highest quality applicants, to ensure the robust delivery standards and availability now expected by our customers.
After each Inventory, each staff member is appraised on the quality of their work; This ensures that they are constantly providing accurate results.
All staff has a company uniform, and are easily identifiable in a store.
All staff are employed directly, and are paid in accordance with current legislation.